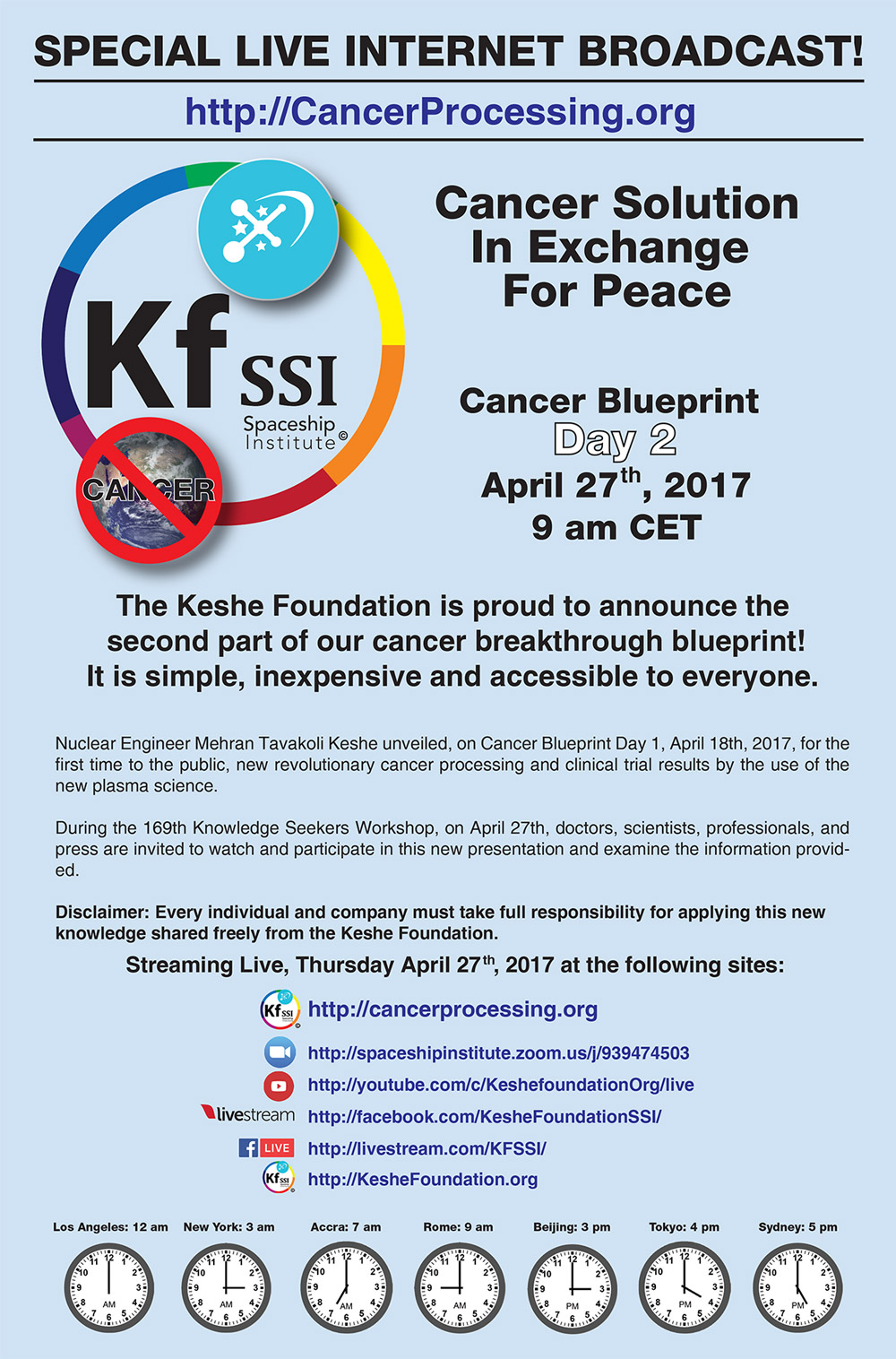 SPECIAL LIVE INTERNET BROADCAST!
Cancer Blueprint Day 2,  April 27 , 2017 9 am CET
Cancer Solution
In Exchange
For Peace
The Keshe Foundation is proud to announce the second part of our cancer breakthrough blueprint!
It is simple, inexpensive and accessible to everyone.
Nuclear Engineer Mehran Tavakoli Keshe unveiled, on Cancer Blueprint Day 1, April 18th, 2017, for the first time to the public, new revolutionary cancer processing and clinical trial results by the use of new Keshe Foundation plasma technology.
On April 27th, doctors, scientists, professionals, and press are invited to watch and participate in this new presentation and examine the information provided.
Disclaimer: Every individual and company must take full responsibility for applying this new knowledge shared freely from the Keshe Foundation.
Streaming Live, Thursday April 27th, 2017 at the following sites and times:
http://CancerProcessing.org
http://livestream.com/KFSSI
http://spaceshipinstitute.zoom.us/j/939474503
http://youtube.com/c/KeshefoundationOrg/live
http://facebook.com/KesheFoundationSSI/
http://cancerprocessing.org
http://KesheFoundation.org
Los Angeles: 12 am |  New York: 3 am  |  Accra: 7 am  | Rome: 9 am |  Beijing: 3 pm  |  Tokyo: 4 pm  |  Sydney: 5 pm
CONTACT US – INDIVIDUALS & ORGANIZATIONS
Please use one of the forms below to contact us.